1st XI v The Forty Club
The scene was set with the sun shining and the wicket in prime condition for the annual Forty Club match on Wednesday. Bethany bowled first and started well with Joe Brinton and Johnny Davies bowling spells which limited run scoring. After a very secure bowling spell from debutant Jake Lancaster that included a maiden over, brothers Ed Harby and Will Harby found line and length that the batsman struggled to play. Will on debut took four wickets and bowled a maiden over in his seven over spell while brother and captain, Ed Harby to four wickets from five overs. The bowlers were supported by some excellent fielding which limited boundaries and the score accelerating away. Bethany wrapped up the opposition innings for 10 off 35 overs.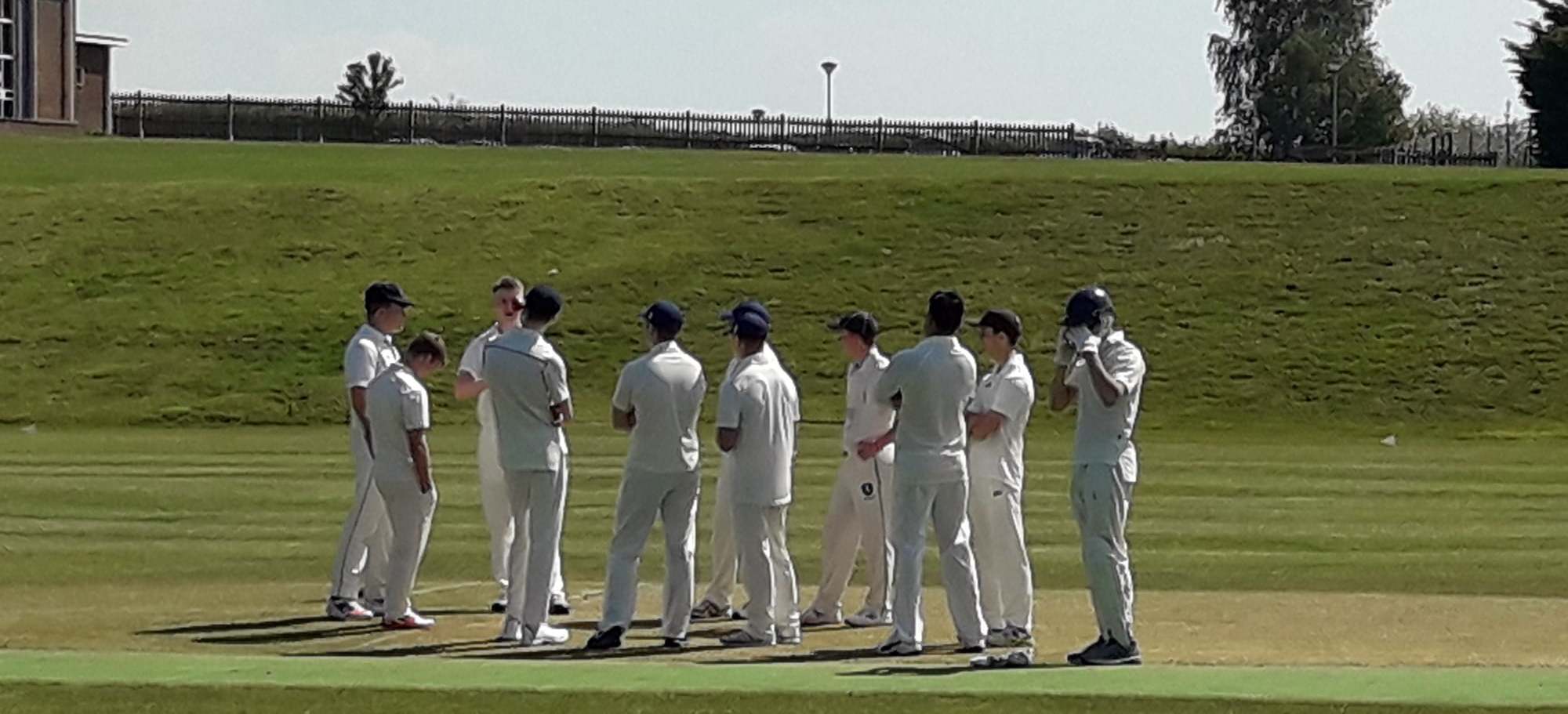 After lunch Bethany set about chasing down the target score from their 35 overs. A good opening partnership from Jake Lancaster and Johnny Davies got the scoreboard moving along to 29 runs off 6 overs. Will Harby and Ed Harby came to the crease at numbers three and four, and played some excellent shots to find numerous boundaries while also running quick singles. A strong partnership saw Will Harby score 33 runs on debut while older brother, Ed Harby scored an excellent 70 runs. This took the team into a commanding position in the run chase before both boys were finally caught and out. After a couple of quick wickets in the middle order, the experienced Jake Blane and young Theo Von Halasz arrived at the crease. Both played with excellent awareness and coolness to settle the nerves and steer the team to victory with Jake Blane not out on 11 runs and Theo Von Halasz hitting the winning shot with a boundary.

Very well done to all players on an excellent performance, and the first winning performance against the Forty Club in a few seasons.
Man of the match: Ed Harby
1st XI v Kings School Rochester
Bethany travelled to King's School Rochester on Thursday to compete in a T20 match. Bethany bowled first and got off to a flying start taking 4 wickets off 3.4 overs with Harry Morgan Jake Jones taking two excellent catches. The middle order settled Rochester down and kept the run rate ticking over before a final attack from Joe Brinton, Will Harby and Ed Harby took the middle order and tail end wickets to leave Rochester on a total of 106.

Bethany started on the front foot with aggressive batting and Johnny Davies scoring 26 before being caught out. Will Harby also scored a strong 29 to set up the run chase. Jarred Hammond batted very well scoring 13 not out from number 5 in the order, but unfortunately wickets were tumbling around him and when captain Ed Harby was caught for 17 with the score at 91, Rochester took their opportunity and bowled out the remaining three Bethany wickets for 3 runs, winning the match by 12 runs.
Man of the match: Will Harby and Jared Hammond
U13 v Gad's Hill
On Monday 13th May an inexperienced Gad's Hill U13 team arrived to play Bethany U13. Bethany won the toss and elected to bat. The format of the game was soft ball pairs cricket. From the outset it was clear that Bethany were far stronger than Gad's Hill, with Harry Taylor and Luca Chettiar scoring many 4's and 6's. Bethany finished their innings on 105 runs.
James Candeloro, William Baker and Ethan Taylor bowled very well for Bethany picking up wickets of their own and restricting Gads Hill to 70 runs, meaning Bethany won by 35 runs.
All of the boys that played in this game represented the school superbly well, helping and nurturing a young and inexperienced Gad's Hill team. Well done, boys.
Bethany v Battle Abbey
On Tuesday 14th May Battle Abbey visited Bethany to play a 20 over game. Bethany won the toss and elected to bat first. Jake Lancaster and Will Harby opened the batting for Bethany getting off to a positive start. Both boys batted brilliantly throughout the innings with Will Harby scoring 100 not out and Jake Lancaster 70 not out. Bethany finished the 20 overs on 205 for no wicket.
Bethany opened the bowling with Tireni Dada and Harry Chambers. The two boys had good opening spells with Harry picking up 3 wickets for 5 runs. Jake Lancaster and Will Harby who were not only exceptional with the bat picked up 6 wickets between them.
The game finished with a convincing win for Bethany with Battle Abbey scoring 40 runs for 9 wickets.
U14 Girls Cricket v U14 Girls Buckswood
Following a successful game against Claremont last week the U14 girls took confidence into this week's fixture against Buckswood. Batting first we maintained our runs, gaining ones to tick the score board over. Notable performance in bat from Emma Martin and Charlotte Ensor to bring the total 232.
Sophie Lumsden opened the bowling with a wicket on her 2nd ball. Milla Liu bowled an excellent over giving just 1 run and Wendy Wu then took her first wicket of the season making Buckswood work harder for the win. It was down to Maddy Parrott to finish the innings and keep within 5 runs to win. The final score Bethany 232 and Buckswood 231.
Player of the match goes to Charlotte Ensor.
Coaches Player: Wendy Wu
U13 Girls Cricket A v Buckswood
The U13 A team demonstrated focus, precision, knowledge and application against Buckswood. Bowling first, Bea Westbrook, Ruby Russell, Tilly Hinde, Elsa Taylor and Olivia Reeves all achieved wickets or 'outs' off their bowling.
All Bethany pupils batted well taking advantage of the slower ball. We also progressed from last week by finding the gaps in the field and positioning the ball well. The batting pair of Frances Lye and Ruby Russell scored a respectable 31 off 2 overs achieving top batting pair of the day.
Player of the match: Elsa Taylor who took 2 wickets
Coaches Player: Olivia Reeves who not only played well both in bat and the field but also demonstrated fantastic Sportsmanship
U13 Girls Cricket B v Buckswood
Our Under 13 B team had their 2nd cricket fixture of the season against Buckswood A team.
The girls were again presented with astro turf surface and set themselves up much better in deep field, learning from last weeks challenges at Ashford. This led to much fewer opposing balls being hit for 4. Our bowling was consistently accurate, giving away fewer wide balls. Our batting continues to get better with more room for improvement. The end result was very much the story of one Buckswood batswoman who hit the ball for 6 and 4 multiple times during her innings. Aside from this one player a very even match was played and the girls should be pleased with their performance.
Final score Buckswood 249 – Bethany 234.
Player of the Match: Alex Boughton
Coaches Player of the Match: Gwyn Rabbetts

1st Senior Rounders v Buckswood
With a number of the regular players in exams for this week's fixture, we still managed to fielded a strong senior team. Bethany played well in the first innings keeping Buckswood to 7 rounders.
In bat, we scored a conservative 9 rounders with a number of these being scored by Sophie Ovenden and Libby Donegan who played up for the seniors in this game. In the second innings Buckswood batted very well to score another 10 rounders leaving Bethany needing 8 1/2 to win. Bethany remained consistent in their batting but hit to the fielders rather than the gaps, making it a little easier for Buckswood to field the ball. Despite a competitive and valiant try, we ran out of balls to catch up.
Final score 17 – 13 to Buckswood.
Player of the match: J'nique Lewin who took two excellent catches and scored our final rounder.
Coaches player: Libby Donegan who scored the most rounders of the game and fielded fantastically well.