Six teams of six pupils, aged 12-13 years, compete against one another to see who can design, create and promote the best solution to a given challenge.
All challenges are genuine, real-life engineering problems.
The challenges draw upon and reinforce learning from science, mathematics and design and technology (STEM) lessons.
Pupils demonstrate creativity, innovation, team working, presentation skills and more.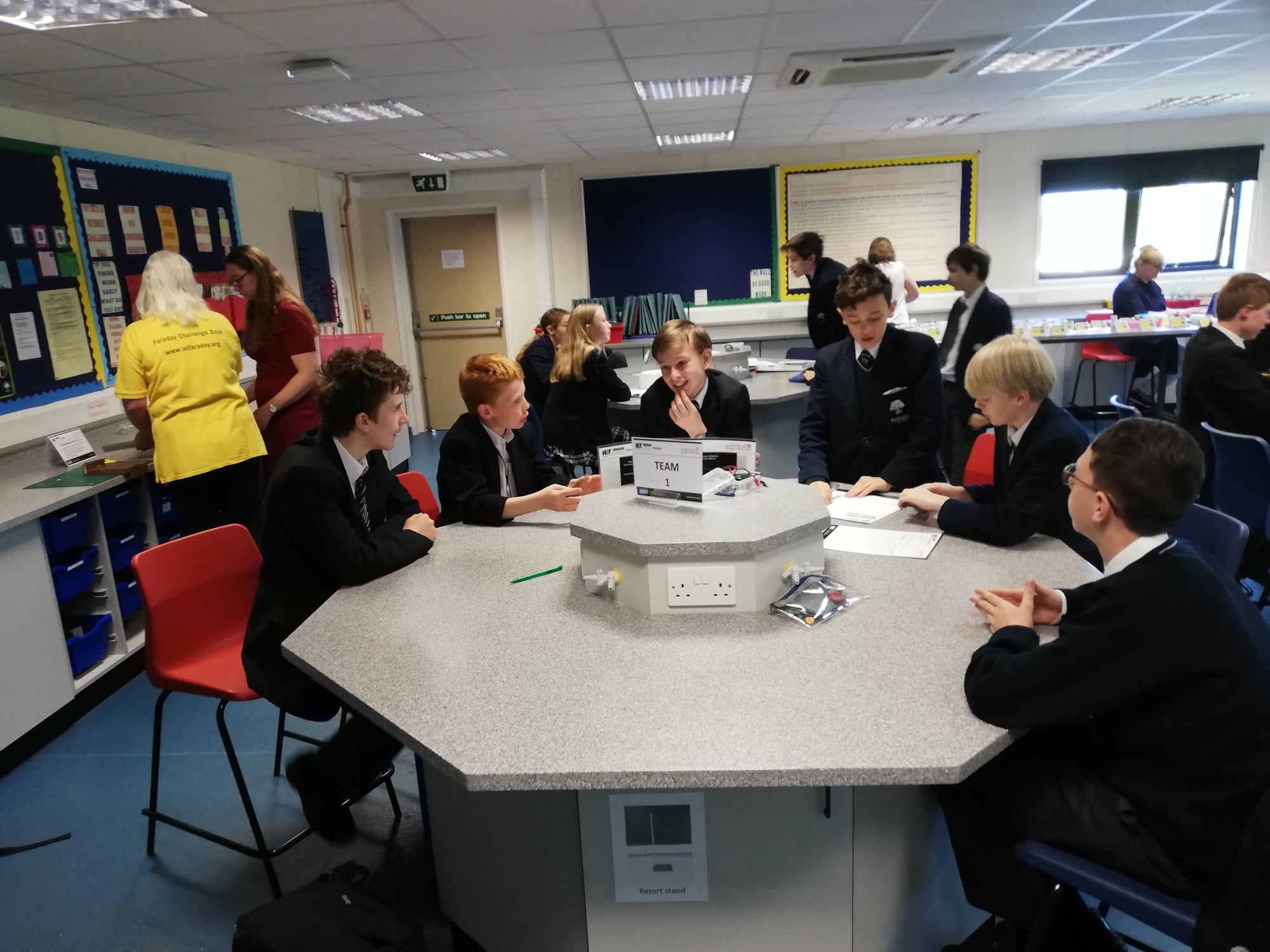 ​​​​​​​On 24th May, it was our Year 8 Science pupils' turn to compete for a spot in the Institution of Engineering (IET) run Faraday Challenge Day. This event is an engineering-based national competition for schools and was a day to remember for our Bethany High Flyers, who completed exciting and innovative new things with their engineering and technology skills. We also had an opportunity to compete with some pupils from Maidstone Grammar School. The event was a true challenge because the winning team from our centre was placed on number 80th nationally.
The Challenge Days are one-day STEM activities delivered in 68 schools free of charge by the IET. This year, several sponsors including IET academic partners, the Science & Technology Facilities Council, Airbus, Arconic Foundation, Jack Petchey Foundation, Kitronik and Motorola Solutions Foundation also funded an additional 108 events across the country.
Our pupils had the opportunity to research, design and make prototype solutions to genuinely tough engineering problems. The event enabled young students to experience working as an engineer for a day. On each Challenge Day, teams compete to win a prize for themselves and a trophy for their school.
The event was set up and run by The IET team of STEM professionals. It is an unbeatable opportunity to switch students on to the subject they love. The winners of each event win prizes for themselves and a trophy for their school. The top teams from across the UK get an all-expenses-paid trip to the National Final to compete for a cash prize of up to £1,000 for their school.
The Science department is passionate about giving our Science pupils new and exciting opportunities to engage in STEM subjects. A strong UK economy relies on great engineering output, and it is crucial to get the engineers of the future interested at an early age. The Challenge Days are run as part of the IET's commitment to showing young people the benefits of careers within Science, Technology, Engineering and Mathematics (STEM).
Our aim in Science at Bethany is to introduce a new generation to the sheer excitement of science, technology and engineering. The IET Faraday activities gave a real insight into what it's like to be a scientist, technologist or engineer working at the cutting edge of technology.
Pupils were excited to find out about the problems that engineers face and the technologies behind their solutions. Every expert at anything was once a beginner!
"We will always have STEM with us. Some things will drop out of the public eye and will go away, but there will always be science, engineering, and technology."
Katherine Johnson