U13A Rugby vs Gad's Hill School – Home
​​​​​​​Bethany U13A continue their successful season with a victory over Gad's Hill. Bethany once again dominated the opposition with excellent handling skills, strong running and solid defence.
Bethany scored three trys within the first five minutes, with Ethan Taylor and Will Harley crossing the line. After Bethany made a number of changes Gad's Hill came back into the game making it a really competitive and enjoyable fixture.
Final Score: Bethany 55, Gad's Hill 45.
Man of the match: Jack Liversedge and Billy Bolton Ferrett for their effort and determination in defence.

U13A Rugby vs Dulwich Prep School – Away
Bethany travelled to Dulwich Prep in what was to be a really competitive match.
Bethany dominated the early part of the game, but failed to score which was frustrating, and poor tackling led to Dulwich scoring two trys.
Bethany improved in the second half with fine performances from James Candelero and Charles Ayorinde.
Final score: Dulwich 20, Bethany 20.
U13 Rugby B" vs Dulwich Prep School – Away
The U13 Rugby B" team travelled to Dulwich Prep on Wednesday and performed well in an entertaining match.
Both sides played free-flowing attacking rugby and created chances. Dulwich scored a couple of well-worked tries with pacey runners, but Bethany continued to take the ball forward with intent and Lawrie Pettit scored an excellent try in the corner.
During the second half Bethany defended with improved intensity, closing the space down against the Dulwich runners and some excellent tackling.
Tom Sutton and Josh Malin were the pick of the defenders, while Chris Hannam and Thibault Grub drove the ball forward with strong running.
Bethany were rewarded with a couple of tries including a second for Lawrie Pettit.
Dulwich continued to pose a threat on the break and did craft a couple of break out tries themselves.
Final score: Bethany 15, Dulwich 35.
Bethany look forward to their final matches of the season next Wednesday against Radnor House and Lingfield Notre Dame. 
1st VII Netball v Dover College – Away
The girls started their game well, converting every goal that came into the circle and at quarter time Dover led by 2 goals.
During the second quarter Dover's physicality became apparent and they chased down every loose ball and dominated air space. We struggled in defence and were not strong enough to keep their accurate Goal Shooter at bay and Dover began to pull away.
The hard work of Izzi Hanson-Abbot and Ruqaiyah Jarviton did not develop into goals and we were unable to regain a lead. Dover finished with a convincing win.
Learning from our mistakes is more powerful than learning from our successes and with this in mind we have learned a lot today that we can take to the next game.
I look forward to seeing how we respond to this next week.
Final Score: Dover 25, Bethany 18.
Player of the Match: Izzi Hanson-Abbot.
Coaches Player: Lorraine Bonsu.
2nd VII Netball v Dover College – Away
This was a close game with both teams struggling to keep possession of the ball and to shoot accurately.
At half time Bethany led by 1 goal; with the score 3-4. In the third quarter we pulled away slightly and kept Dover from scoring.  In the last quarter,  however, Dover changed around their team, capitalising on our mistakes.
Final score: Bethany 11, Dover College 9.
Player of the Match: Belle Zhou,
Coaches player: Lolly Discombe.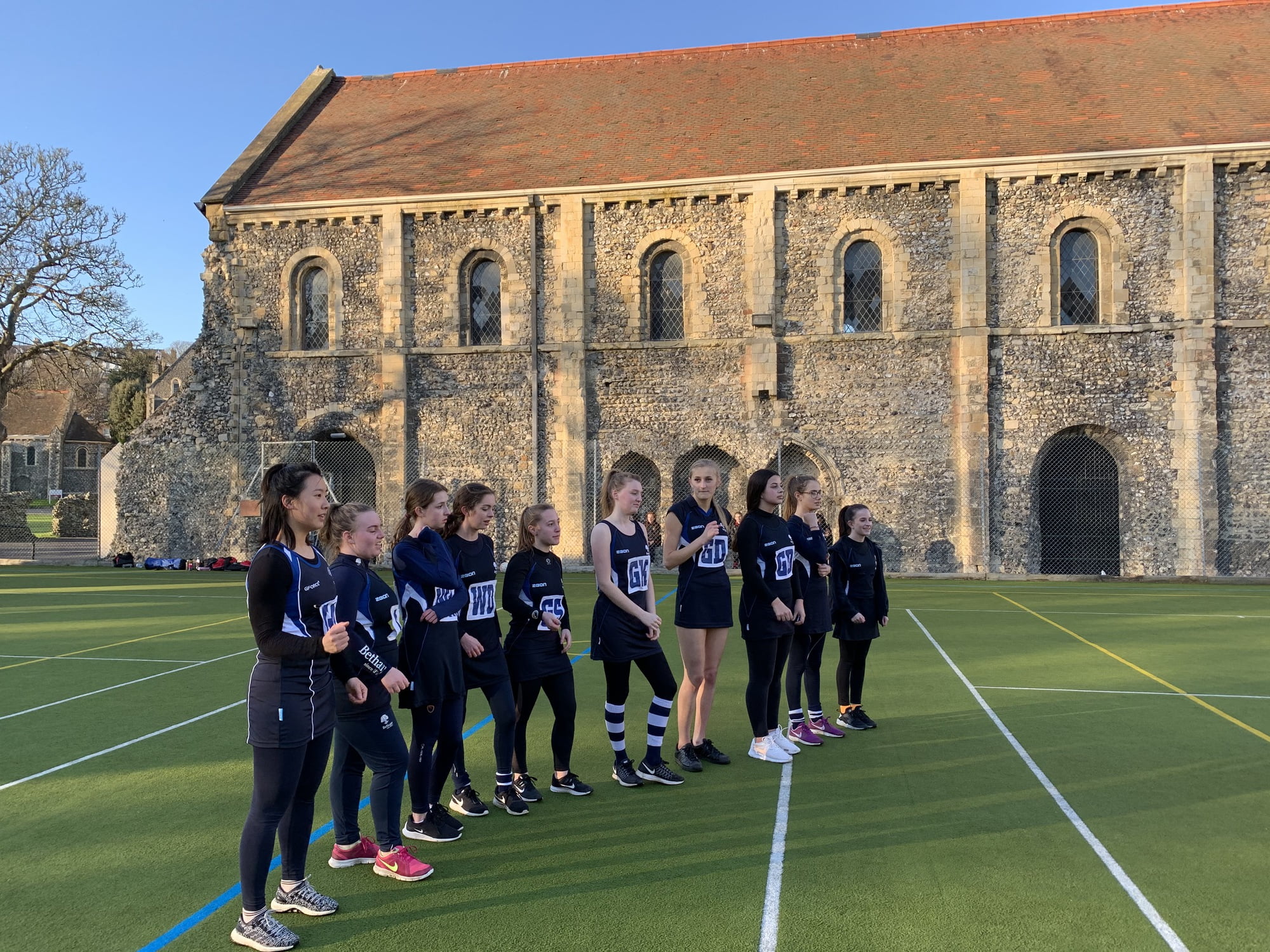 U15A Netball v Battle Abbey – Home
With several key players out on a trip, and additional illnesses, the U15A team looked a little different. Some players were playing in their second position to cover for others and Ella Smith from the U13A team played up. It took the first quarter to settle but in the second quarter we were more comfortable, stretching the lead to 7 – 2 by half time.
In the second half, feeding into the circle was more accurate, shooters Gaby Morrison and Ella were more consistent and all players defended well – particularly Josie Tabb who intercepted and regained possession of the ball allowing Bethany to dominate. Special mention should go to Ella Smith who did not look out of place playing two years up and remained composed in a pressurised situation.
Final score: Bethany 17, Battle Abbey 6.
Player of the Match: Tilly Hinde.
Coaches Player: Gaby Morrison.

U15B Netball v Battle Abbey – Home
Bethany displayed control from the first whistle and with Bea Westbrook's impressive conversion rate, Bethany finished the end of the first half leading 8 goals to 1.
Bethany were encouraged to continue to focus on their individual goals set at the start of the game and it was great to see the girls determined to fulfil their objectives. As we continued to dominate the game, Battle Abbey gave Bethany space to try out some different combinations in the final quarter which challenged the team a little more.
It was great to see Bethany play with such conviction and they should try and carry this through to the next fixture.
Final score: Bethany 11 Battle Abbey 6.
Player of the Match: Bea Westbrook.
Coaches Player: Isabel Chang.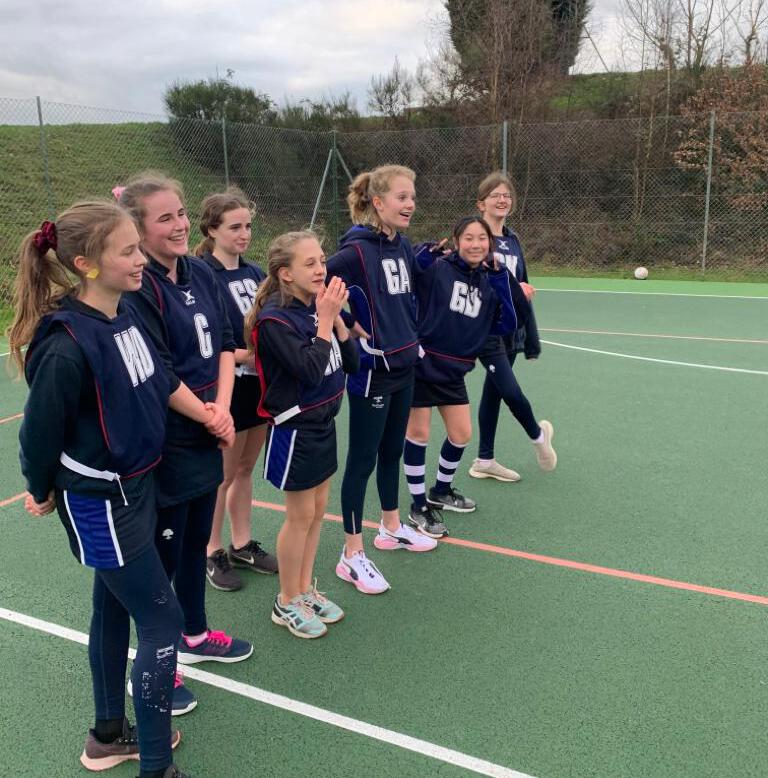 U13A Netball vs Claremont Senior School – Home
Bethany U13A team took on Claremont today, in what proves always to be an exciting fixture.
The girls have been working on driving into space and it was evident today that this element of their game had significantly improved. The centre court flowed very well and the fantastic link play of Elsa Taylor and Ella Smith meant we took a three-goal lead in the first quarter.
The girls continued to dominate the game, turning over the ball multiple times in defence, although towards the end of the game however, Bethany did begin to make a few passing errors. Claremont were quick to monopolise on these and they drew the final quarter. The work done by Bethany in the first half of the game, meant that the gap was too large to bridge and we managed to finish the game 7 goals ahead.
A successful game but with lots still to work on. Well done.
Final score: Bethany 22, Claremont 15.
Player of the Match: Ella Smith.
Coaches Player: Elsa Taylor.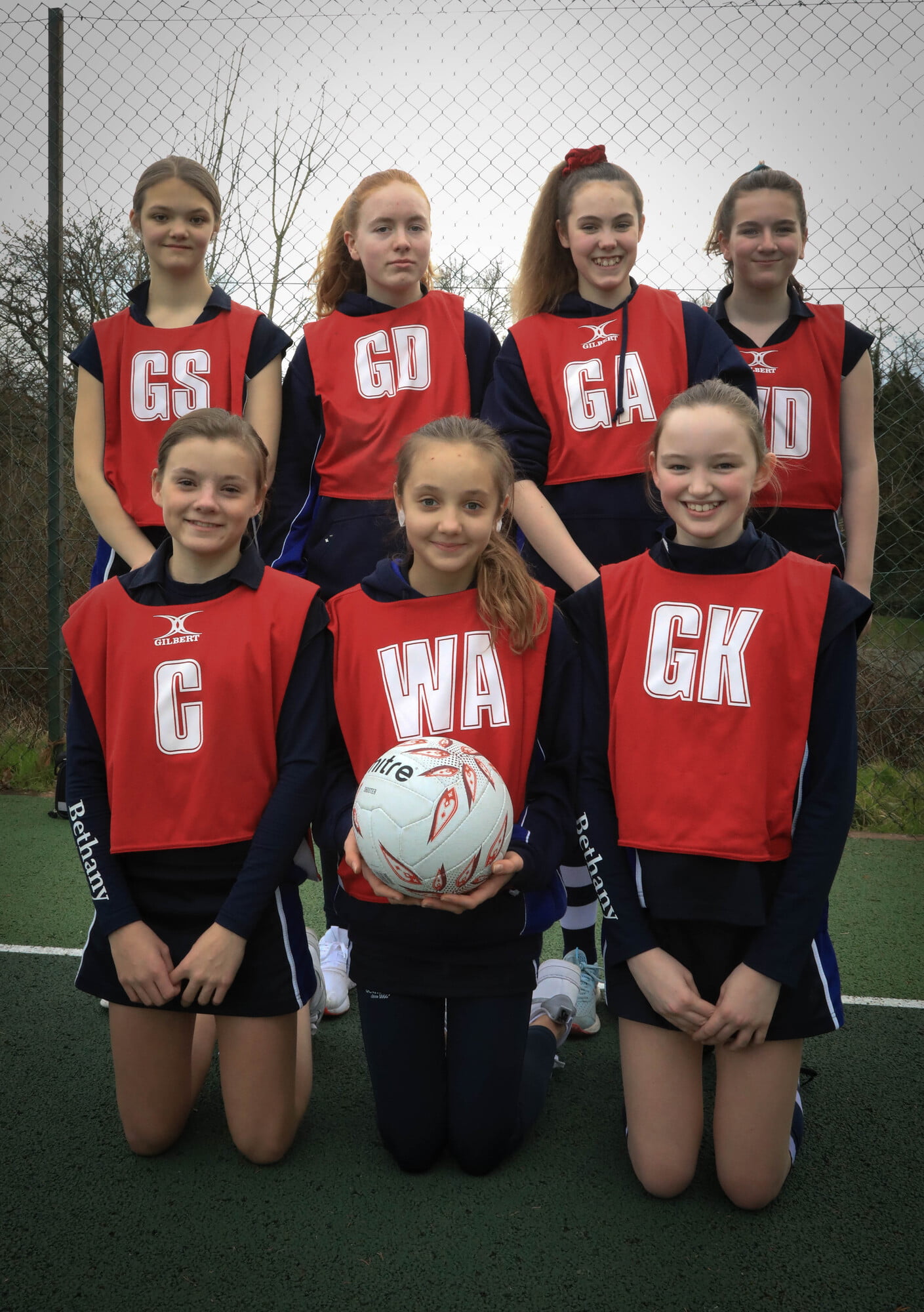 U13B Netball vs Claremont Senior School – Home
In what proved to be a very close game with end-to-end play throughout the game, the first quarter was no different. Both teams worked extremely hard tipping and intercepting the ball and the first quarter ended two-all.
In the second quarter, the shooters got into their stride and feeding into the circle was much more accurate and consistent; the quarter ended 6 – 5 to Bethany. The second half remained close with just one goal in it at the three-quarters point. We fought back to regain possession numerous times but just made too many passing errors. The match finished with just two goals between the teams.
A brilliant match.
Final score: Bethany 10, Claremont 12.
Player of the Match: Lucy Shaw.
Coaches Player: Nell Martin.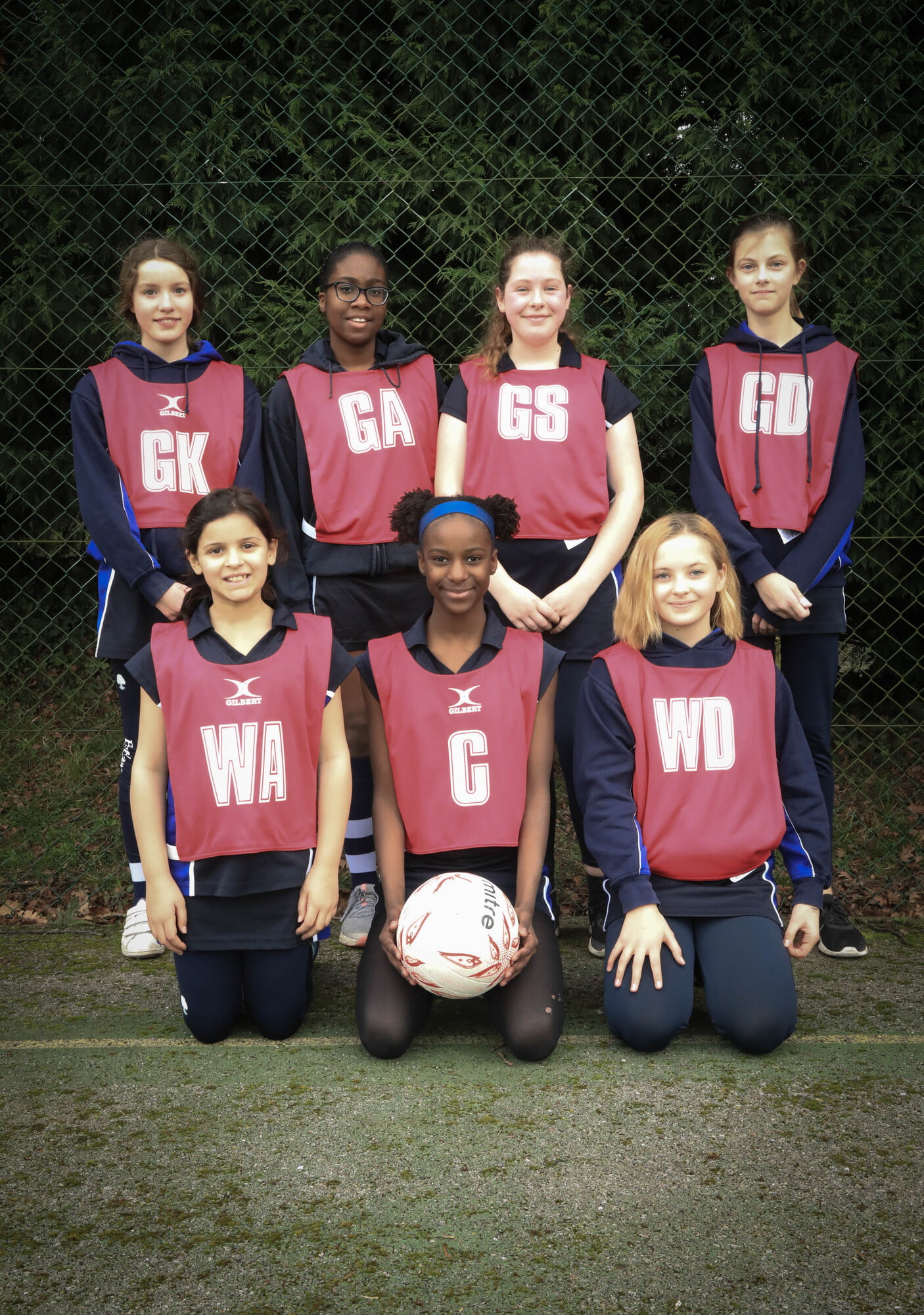 1st XI Football vs Maidstone Grammar School – Away
The 1st XI football team travelled to Maidstone Grammar School on Thursday. In a very promising first-half performance, Bethany applied early pressure and a foul on Jake Fuggle in the penalty area resulted in a 1-0 lead when Jake himself was successful from the spot.
A second goal quickly followed when Harry Wheeler's shot was pushed out by the keeper into the path of Jack Bartram who slotted home. The half continued to be dominated by Bethany but no further goal followed. Maidstone were always a threat on the break and a cross shot from the right wing beat the Bethany keeper at his near post and halved the deficit.
Maidstone improved greatly in the second half and dominated possession. Bethany never gave up and battled for the ball in all areas of the pitch. However, the pressure eventually resulted in goals for Maidstone as the Bethany fitness levels began to drop and space opened up.
A final score of 2 – 5 to Maidstone tells the tale of a game of two halves. Bethany can certainly take pride from a performance against a much bigger school that play two terms of football.
Final score: Maidstone 5, Bethany 2.
Man of the match: Jake Fuggle and Theo Von Halazs.

U15A Football vs Beechwood Sacred Heart School – Home
Bethany U15A hosted Beechwood on Tuesday 4th February.
Beechwood started off the better side and created early chances eventually resulting in them taking an early lead through a brilliant headed goal. Bethany grew into the game but unfortunately conceded a second from a very good Beechwood break.
At the start of the second half Bethany looked like a different side passing the ball about nicely in the midfield and constantly looking a threat with Paris and Femi up front.
Due to increased Bethany pressure Ethan Hill managed to get a goal back to make it 2 – 1. Will Garner Hutton on goal made some great saves, which proved pivotal as Paris scored two late goals meaning a second Bethany win for the season.
All the boys played really well and deserved the win.
Final score: Bethany 3, Beechwood 2.
​​​​​​​Player of the match: Paul Kaminski.